What to Expect at Potato Expo 2022
Potato Expo 2022 is a live, in-person event being held in Anaheim, Calif. More than 160 exhibitors, growers, U.S. and global industry, and industry partners will join us in Anaheim, January 5-6.
The health and safety of the potato industry is important to us. Potato Expo continues to monitor guidelines for health safety measures from the Centers for Disease Control and Prevention, the state of California, and Orange County. Potato Expo will follow applicable federal, state and local laws, adapting plans accordingly and sharing updates with you and other Potato Expo audiences.
We will continue to evaluate and expand our health safety protocols as medical recommendations evolve and will update this page in accordance.
Below is information on what you can expect when you arrive in Anaheim for Potato Expo.
Masking
Fully vaccinated attendees are not required to wear a mask.
Unvaccinated attendees are required to wear a mask indoors, except while eating and drinking. Masks are not required at outdoor events such as the Beer Garden and the Food Truck Festival. This is in accordance with guidelines from the California Department of Public Health (CDPH).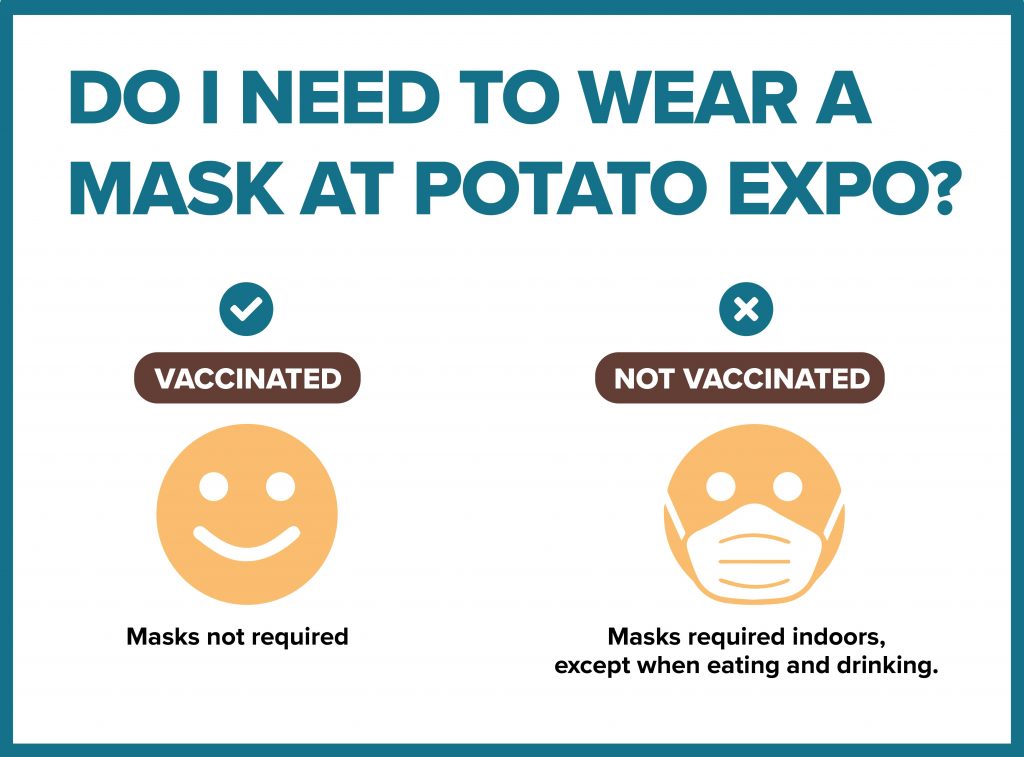 Proof of Vaccination or Negative COVID Test Result
Attendees of the Potato Expo are required to provide either proof of vaccination or a negative COVID-9 test taken with 72 hours of arriving at Potato Expo. This is in accordance with guidelines from the California Department of Public Health (CDPH) for mega events such as Potato Expo.
To simplify and speed up badge pickup at Potato Expo, we will use a secure, third party platform to collect proof of vaccination. Once you have provided your proof of vaccination and picked up your badge, you will not need to verify your vaccination status again.
U.S.-Based Attendees:
Potato Expo has partnered with CLEAR Health Pass to provide quick and easy proof of vaccination or negative test results for U.S. based attendees. For the most efficient entry into Potato Expo possible, all registrants should sign up for CLEAR and complete their COVID-19 proof of vaccination as soon as possible, but at least 24 hours before arriving at badge pick up locations. If providing proof of a negative test, sign up in advance then upload the results as soon as they arrive.
Download the CLEAR app from the Apple App Store or the Android App Store. In the app, you will need to verify your identity and upload a picture of your vaccination card or test result. Then, sometime no later than December 21, Potato Expo will send you a specific link for our event so you can get a QR code you will show at the Potato Expo registration desk indicating you are cleared to attend.
International Attendees:
Details on international attendees will be available soon.
This page was updated on November 23, 2021 and will be continually updated with any new information about our location's policies.
FAQs
Do I need to be vaccinated to attend Potato Expo 2022?
No, you do not have to be vaccinated. If you are not vaccinated, you will just need to receive a negative COVID test within 72 hours of registering on-site. You will upload the results to the CLEAR Health Pass app.
By what date do I need to be vaccinated by to participate in Potato Expo 2022 and not be required to wear a mask indoors or take a COVID test?
Participants are considered fully vaccinated two weeks (14 days) after they have completed either the second dose in a two-dose series (e.g. Pfizer, Moderna) or after a single dose of a one-dose vaccine (e.g. Johnson & Johnson). Participants should complete their final vaccine by December 20, 2021 to be considered fully vaccinated for Potato Expo 2022. Use the CDC Vaccine Finder to find a COVID-19 vaccination location near you.
How do I verify my COVID-19 vaccination or negative test results?
You must provide proof of full vaccination or a negative COVID test result to enter the show. This is a requirement in the state of California for groups the size of Potato Expo.
Potato Exo is using CLEAR Health Pass to verify vaccination status or negative test results. A code will be sent for the Potato Expo. Attendees will verify their identity and upload a picture of their vaccination card or negative COVID result. CLEAR will then send you a QR code. You will present your QR code on-site at registration when you pick-up your badge. CLEAR Health Pass is HIPPA compliant. Potato Expo will not have access to any attendees records.
Once you have shown your certification you will be issued a wristband so you are able to pick-up your name badge.
Will exceptions to your COVID-19 vaccine or testing requirement be accepted?
No, we are unable to make any exceptions to the requirement to be fully vaccinated against COVID-19 or a negative COVID test results with in 72 hours. This is required by the state of California.
Who can travel to the U.S.?
(As of November 11, 2021)
Effective November 8, 2021, all international travelers must show proof of full vaccination and a negative COVID-19 test prior to boarding their flight to the U.S. Those traveling by land do not need to provide a negative test. For purposes of entry into the United States, vaccines accepted will include FDA approved or authorized and WHO Emergency Use Listing vaccines. Existing visa policies remain in place. Please check back regularly for the latest information.
Will Potato Expo offer COVID-19 testing for attendees?
Potato Expo will not offer testing for admittance into the show. However, facilities will be available in Anaheim for those who wish to get a COVID-19 test. We will provide information about local testing sites as we get closer to the show.
I prefer not to use one of the apps or I am unable to upload my proof of vaccination into one of them. What should I do?
Using one of the approved apps will ease and speed up badge pickup in Anaheim, however, you can show proof of vaccination by presenting your physical vaccination card on-site. Please be aware that this may be slower than using one of the apps.
Details on how to provide your proof of COVID-19 vaccination on-site will be available soon.
Our team continues to actively monitor COVID-19 policies and recommendations at the city, county and state level as well as collaborate with the staff at the Anaheim Convention Center and the Anaheim Marriott to ensure our team and guests have a happy, healthy experience at this year's Potato Expo.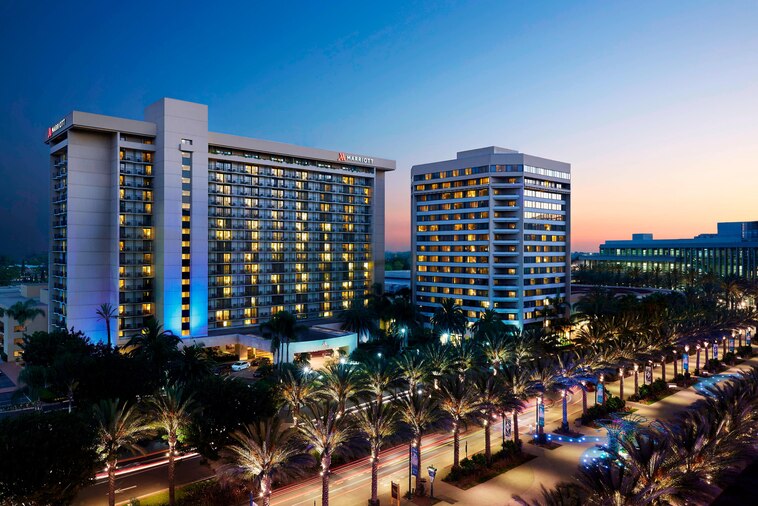 Book your room for Potato Expo 2022
Room block at the Anaheim Marriott is now open!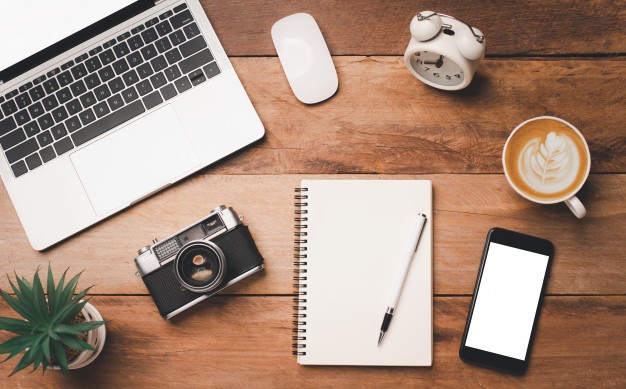 Sign Up for Potato Expo Updates
Potato Expo Social Media Feed