Growers unite to Stand Up for Potatoes on Capitol Hill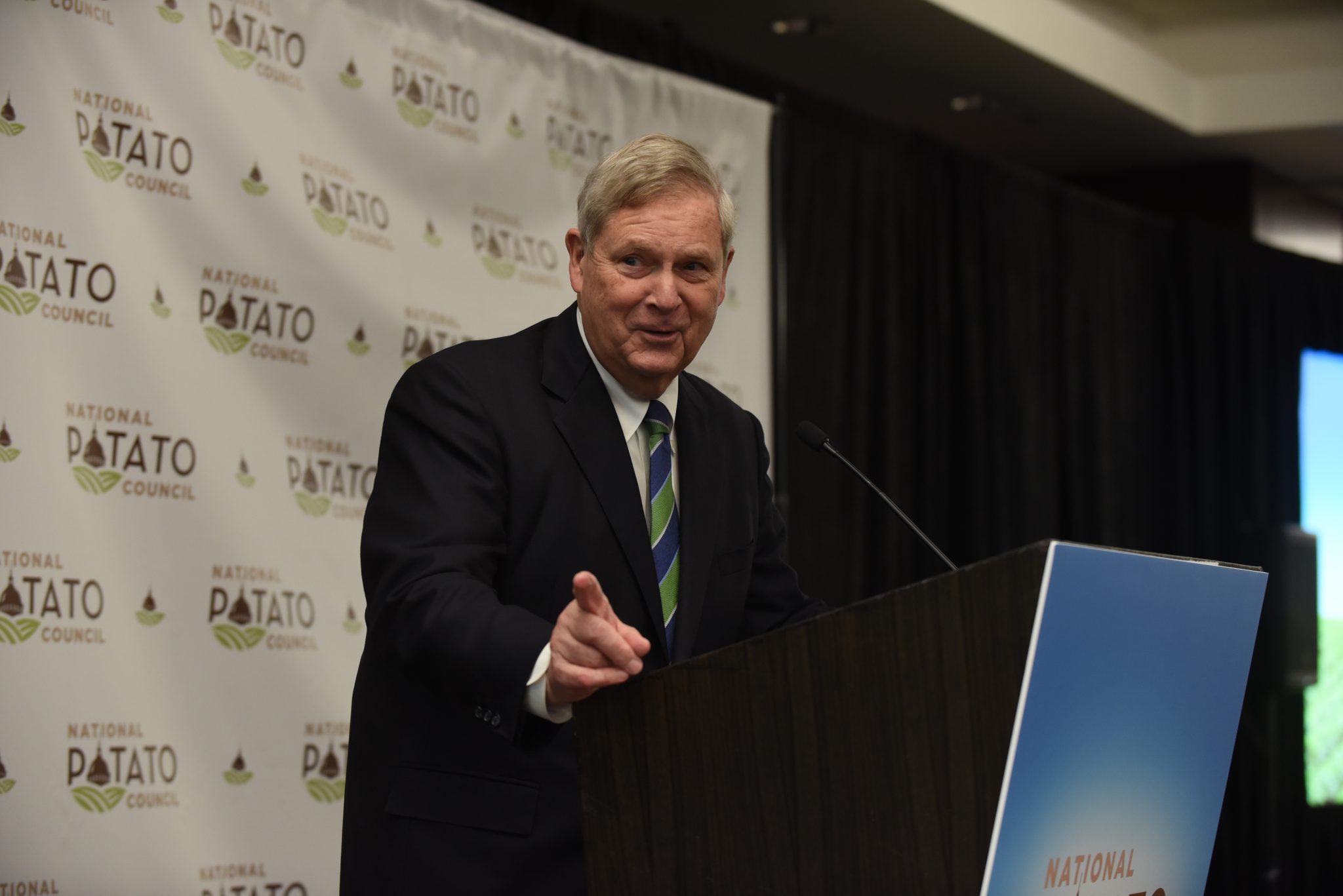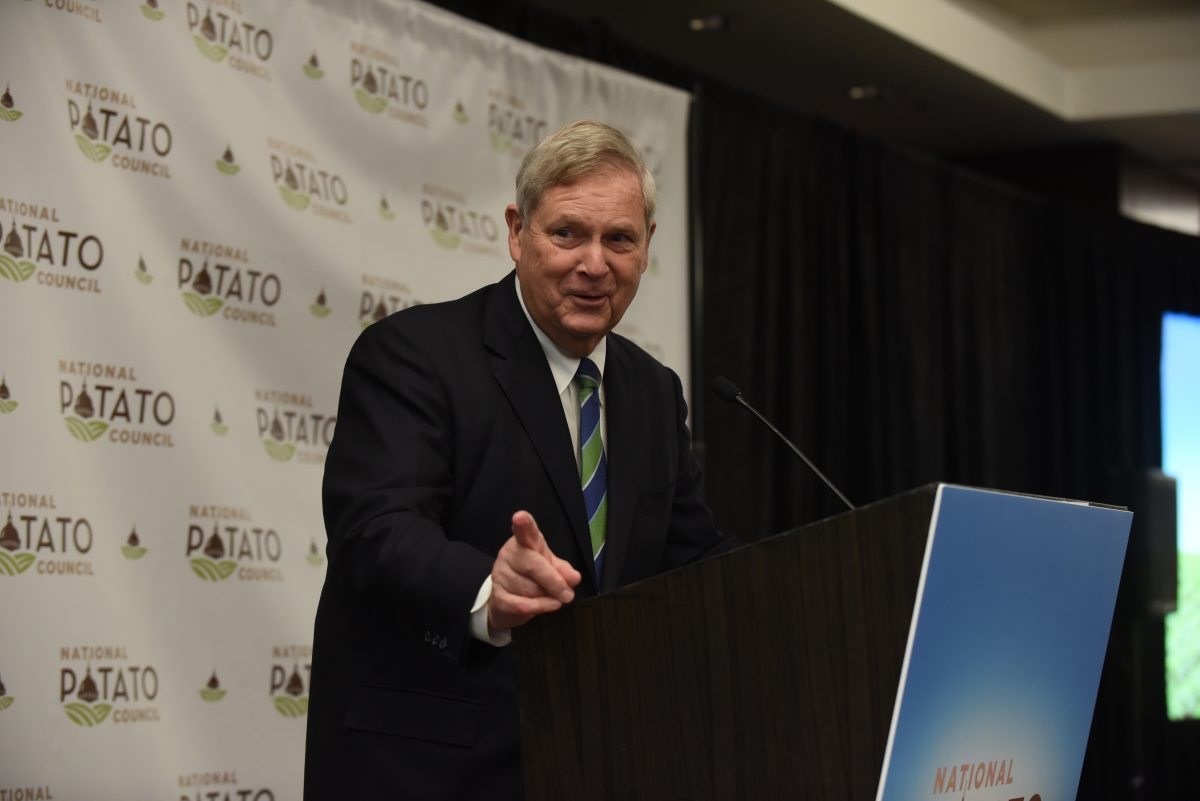 ---
This week, U.S. potato growers and allied partners from across the country united as an industry to fulfill NPC's mission of "Standing Up for Potatoes on Capitol Hill." The 2023 Washington Summit, Feb. 27-March 3, provided a forum for potato industry members to discuss, define, and advocate for the policy priorities impacting their businesses and protecting their ability to farm.
The first day kicked off with NPC's first-ever virtual media roundtable during which CEO Kam Quarles, Immediate Past President Jared Balcom, and Incoming President RJ Andrus shared the news of the Council's groundbreaking report "Measuring the Economic Impact of the U.S. Potato Industry." A dozen industry news editors and reporters were provided with highlights of the comprehensive analysis of the potato industry's $100.9 billion economic contribution to the U.S. economy.
That evening at the meeting of Voting Delegates, 2022 President Jared Balcom passed the gavel to incoming President RJ Andrus. Balcom also presented the annual President's Awards to: Washington state grower and former NPC President Ed Schneider; Chris Voigt and Matt Harris of the Washington State Potato Commission; and Balcom's wife Kellee Balcom. Matt Lantz, Vice President for Global Access for Bryant Christie Inc., received the Golden Potato Award for his decades long effort to open foreign markets for U.S. potatoes.
The Packer's Amy Sowder presented Maine potato grower and former NPC President Dominic LaJoie with its 2023 Potato Person of the Year Award, which honors a potato industry member who has shown extraordinary leadership and commitment to the industry.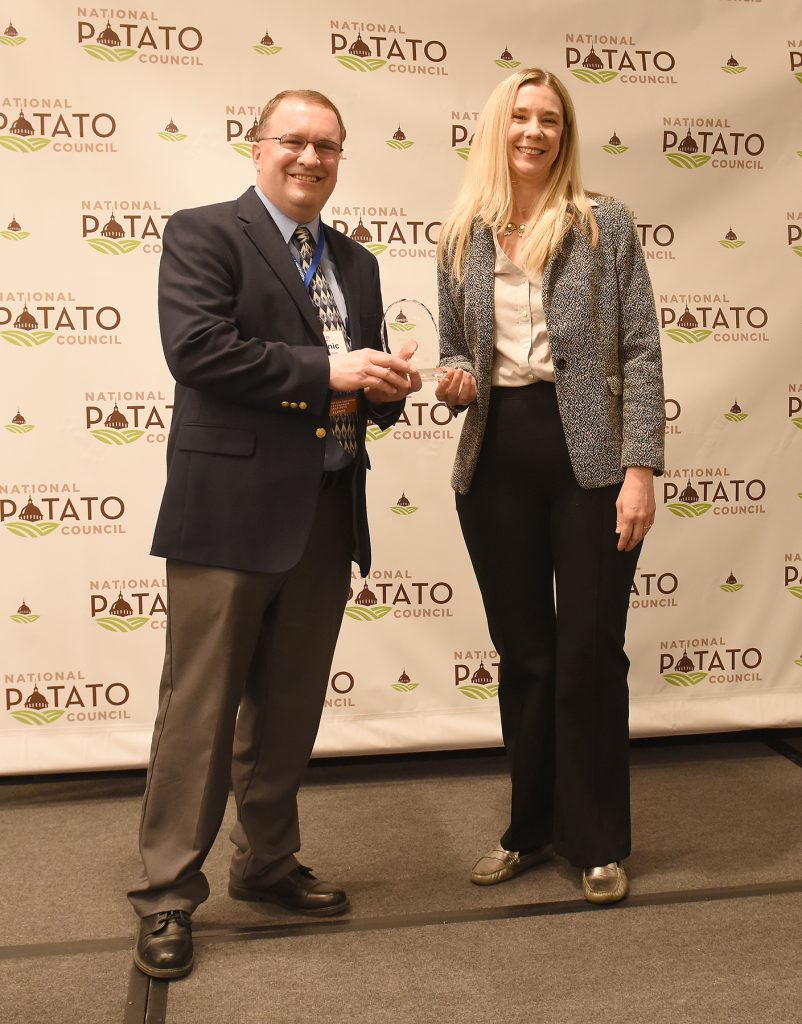 Throughout the next day, committee members met to report on and discuss the status of issues facing our industry, including Finance Committee led by Ben Sklarczyk; Legislative Affairs Committee led by Dean Gibson; Environmental Affairs Committee led by Bob Mattive; Grower Outreach and Industry Research Committee led by TJ Hall; and Trade Affairs Committee led by Ted Tschirky.
During lunch, attendees were briefed by Bill Knudson, Product Marketing Economist at Michigan State University Product Center, who presented the report his team conducted on behalf of NPC to measure the $100.9 billion economic impact of the potato industry on the U.S. economy.
On Wednesday morning, business began earlier than expected with the arrival of Secretary of Agriculture Tom Vilsack who praised potato growers for their significant contribution in providing America with nutritious, delicious potatoes, while supporting rural communities and the entire U.S. economy. Prior to his remarks, Immediate Past President Jared Balcom presented the Secretary with a Golden Potato Award to thank him for his leadership over two Administrations in helping open the full Mexican market to fresh U.S. potatoes – a victory two decades in the making.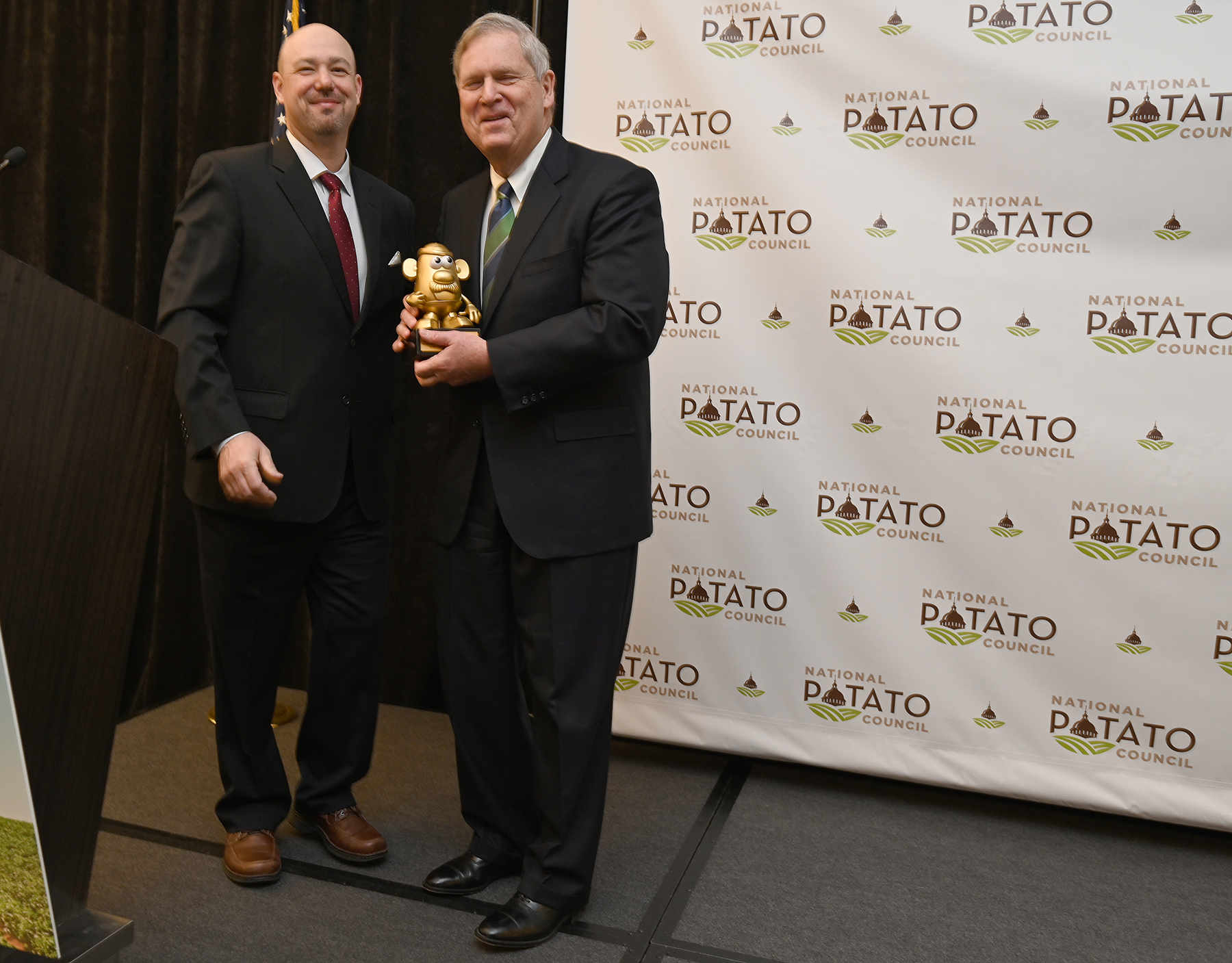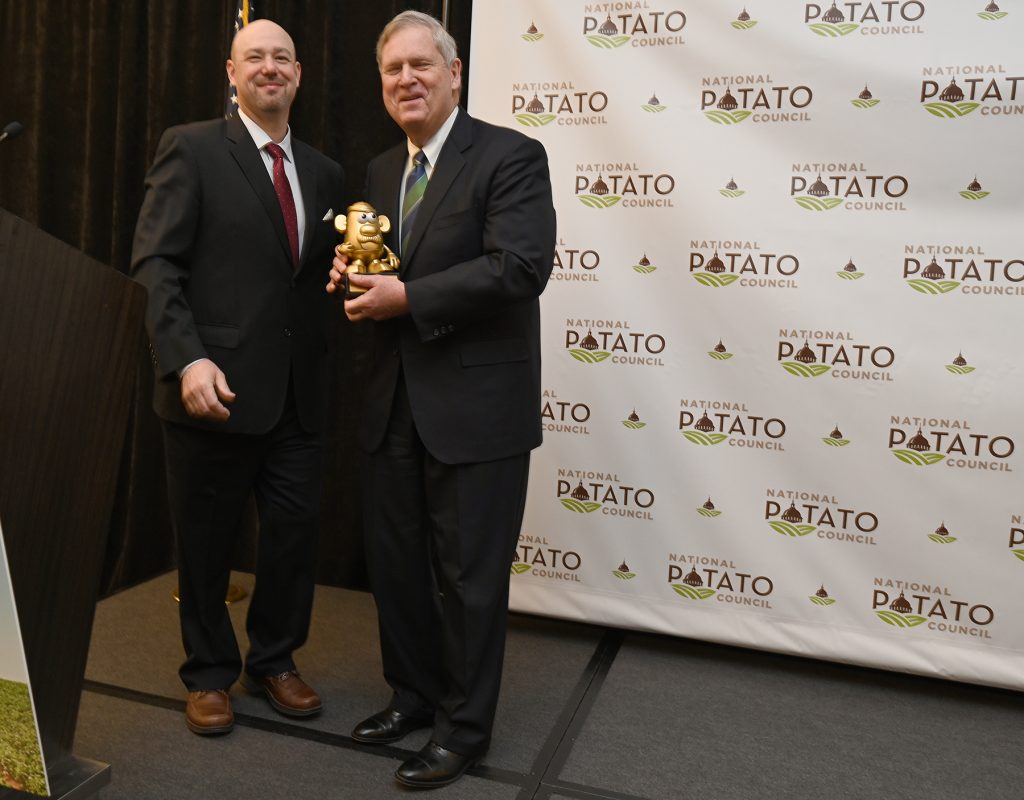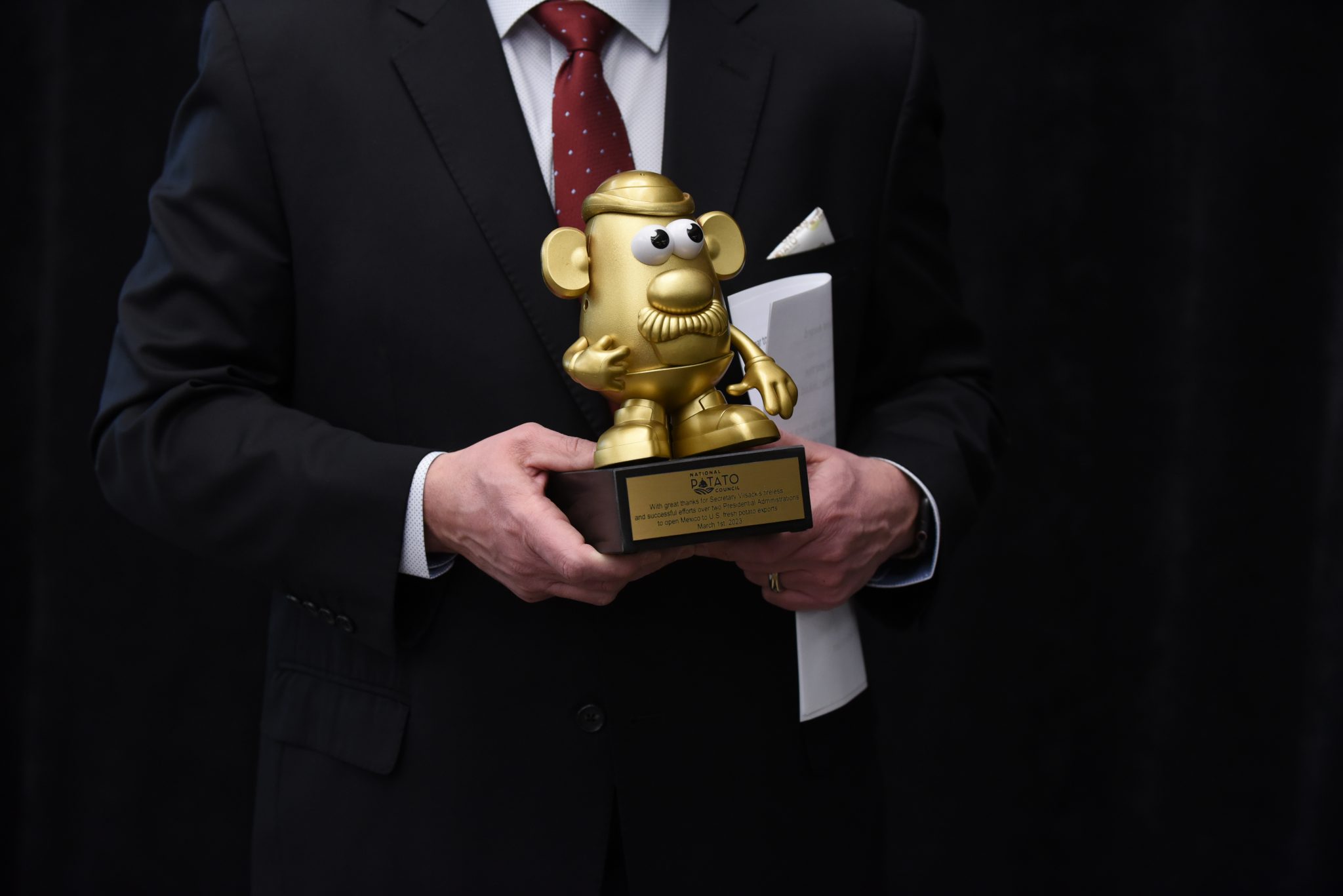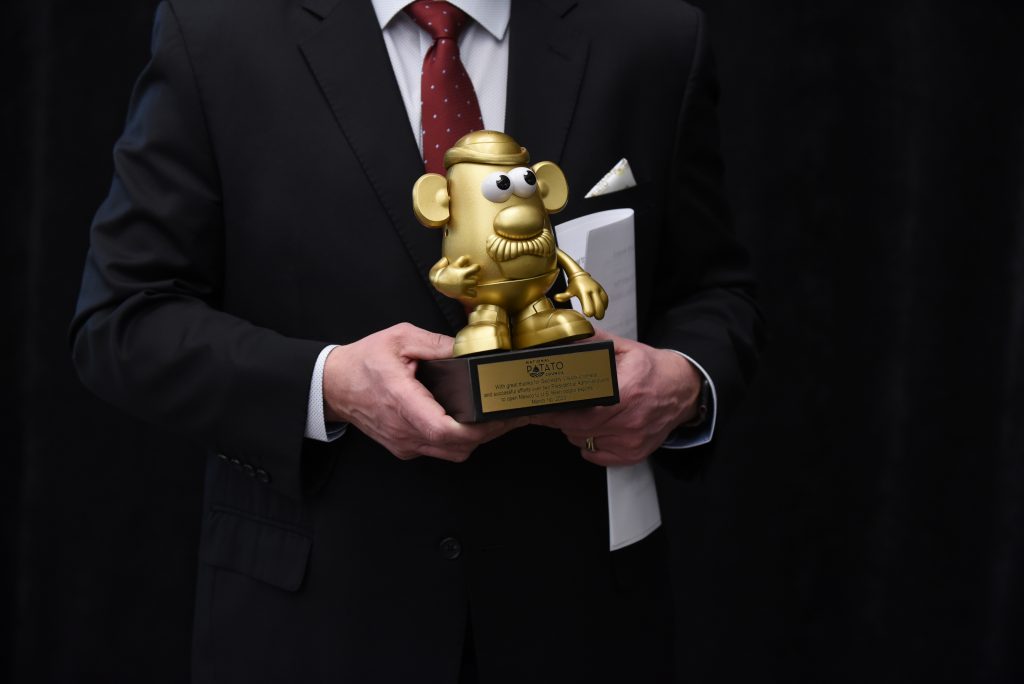 The morning sessions also included a live Eye on Potatoes Podcast recording with host Lane Nordlund, Washington State Potato Commission Executive Director Chris Voigt, and Phil Gusmano, Vice President of Better Made Snack Foods in Detroit, Michigan, on the topic of communicating the potato industry's message to urban Members of Congress. Additional sessions featured Randy Russell, President of the Russell Group, and NPC CEO Kam Quarles on the topic of Potato Leadership in the 2023 Farm Bill Process; and Navigating the Complex World of Nutrition Regulation with Senate Agriculture Committee senior professional staff member Katherine Thomas.
During the keynote lunch, sponsored by Syngenta, Charlie Cook, renowned political analyst and founder of the Cook Political Report, provided attendees with his unique analysis of the issues, trends, and events that are shaping today's political environment with special emphasis on past and upcoming presidential elections.
On Wednesday afternoon at the Dirksen Senate Office Building, Members of Congress joined the group to address their priorities and hear from attendees on their policy concerns. Speakers included Rep. Dan Kildee (D-Mich.); Parish Braden, Republican Staff Director of the House Agriculture Committee; Senator John Boozman (R-Ark.), Ranking Member of the Senate Agriculture, Nutrition and Forestry Committee; and Senator Angus King (I-Maine). On Thursday and Friday, attendees took to Capitol Hill to meet with dozens of Members and staff to advocate for the industry's policy priorities. The photo album of the week can be found here.