Jan. 10-11 event to feature new stages, double the programming from previous year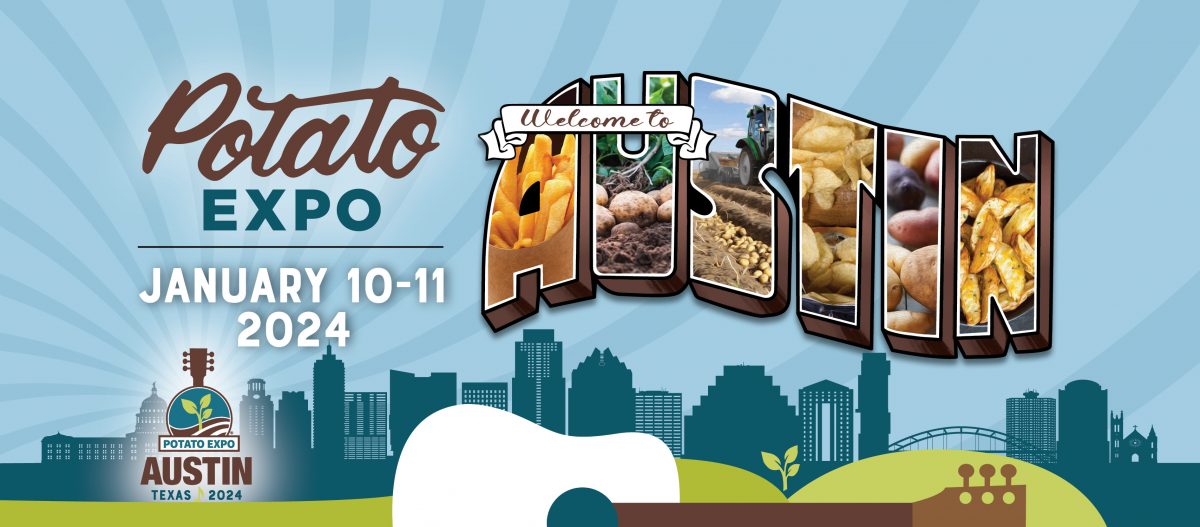 ---
Potato growers and industry partners from around the world will descend on the Austin Convention Center, Jan. 10-11, for Potato Expo 2024, which will tap into all things Texas, with barbeque, music, culture, and a heavy dose of potatoes.
Hosted annually by the National Potato Council (NPC), Potato Expo is the largest conference and trade show for the potato industry in North America, bringing together U.S. and international growers, suppliers, industry experts, and value chain partners all under one roof. Potato Expo 2024 marks the 16th meeting in the event's history and the second time held in Austin.
Demand for Potato Expo 2024 has already surpassed previous events, requiring the host to expand the trade show to accommodate a record-breaking number of exhibitors. To date, 206 companies and organizations have registered to exhibit in the 100,000 sq. foot Expo Hall, breaking the previous record of 194 exhibitors at Potato Expo 2020 in Las Vegas.
Potato Expo has always featured industry experts and addressed issues top-of-mind for industry partners. This year's event will double the number of educational and business-oriented sessions, which will be held on three stages – the Expo Stage, the Cultivation Stage, and the Pavilion Stage in the all-new NPC Pavilion, which will focus on the industry's public policy and advocacy efforts.
Session highlights include:
Potatoes Gone Viral! Reaching the TikTok Generation
If you're not Generation Z, you probably need help making sense of all the ways people are experiencing potatoes through social media. We know we do! That's why we've invited digital, marketing, and strategy expert Steve Lerch to talk about the importance of creating digital content and the power of social media and viral videos to keep potatoes top of mind for all consumers. He'll be joined by Chef RJ Harvey, Culinary Director of Potatoes USA, and Chef Jason Morse, national spokesperson for Ace Hardware, to share their personal experiences as chefs, content creators, and fans of all things potato.
Fueling Performance Across Generations
Join us for an exciting presentation that showcases how Potatoes USA is at the forefront of promoting a healthy lifestyle and culinary excellence with the versatile potato. This unique session will explore how potatoes can be prepared to cater to unique needs and preferences, including "Food as Medicine" advocates, foodservice operators, home cooks, and the ever-evolving Generation Z.
The Amazing Capabilities of AI for Food Sorting and FM Detection
AI has a remarkable capacity to learn and make decisions, including an ability to make precise judgments about the quality of potatoes. AI can also detect foreign materials in chip potatoes that might otherwise be included in the food supply, such as golf balls, walnuts, rocks, and other materials. This presentation will discuss AI's current throughput capacities and what lies on the horizon for AI robots, roller tables, automated dockside, and fieldside quality inspections.
As always, the 2024 event includes numerous networking opportunities, such as the Kick-Off Reception with a live auction to benefit the Potato Leadership, Education and Advancement Foundation (Potato LEAF), daily happy hours, and a closing party, Potato Palooza, at the historic Austin venue, Speakeasy.
Potato Expo serves as a forum to foster collaboration between national and state potato associations, as well as the rest of the industry. Potatoes USA, United Potato Growers of America, Potato Sustainability Alliance, and others meet prior to the kickoff of the Potato Expo to organize and plan for the new year. The full schedule can be found at potato-expo.com/schedule. 
Registration for attendees and exhibitors is open, but fees increase on Dec. 16. Visit potato-expo.com to register and access other important information about Potato Expo 2024.