Inaction will only deepen the U.S. agricultural labor crisis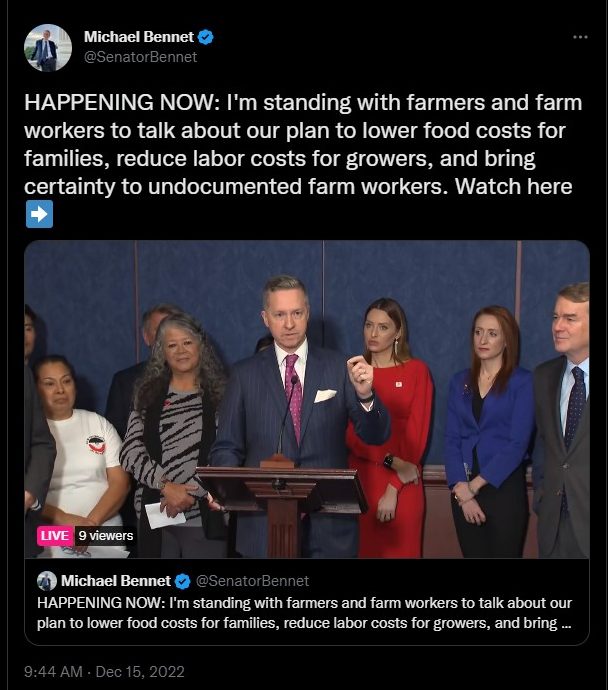 ---
Yesterday at a press conference held in the Capitol Building, the National Potato Council endorsed legislation introduced by Colorado U.S. Senator Michael Bennet that improves upon the House-passed Farm Workforce Modernization Act. The bill – the Affordable and Secure Food Act (ASFA) – "will reform the H-2A Temporary Agricultural Worker program by expanding H-2A visas to year-round jobs for the first time, modernizing the application process, creating more wage certainty, and ensuring critical protections for farm workers."
The legislation is supported by farm workers and numerous agricultural organizations, including the National Council of Farmer Cooperatives, International Fresh Produce Association, AmericanHort, Land O'Lakes, Inc., Western Growers, U.S. Apple Association, American Mushroom Institute, National Farmers Union, and Florida Fruit & Vegetable Association.
In a statement recognizing the bipartisan efforts of Members of Congress from numerous potato-producing states, NPC endorsed the bill and called on the Senate to pass the legislation during the Lame Duck.
"The National Potato Council thanks Senator Bennet for seeking to honor the bipartisan Senate negotiations intended to solve U.S. agriculture's labor crisis," said NPC CEO Kam Quarles. "The bill announced today is a strong step forward and enhances the House-passed Farm Workforce Modernization Act. We also thank Congressman Newhouse, Senator Crapo and all the bipartisan negotiators for their work on this important issue. The National Potato Council encourages further bipartisan discussions to gain the necessary votes to include a solution in the Omnibus and see it signed by the President in this Congress. Inaction will only deepen the U.S. agricultural labor crisis and threaten the competitiveness of American farms and the food they produce."
The full press conference is available here.