Annual event allows regulators to gain a better understanding of pest challenges faced by U.S. potato growers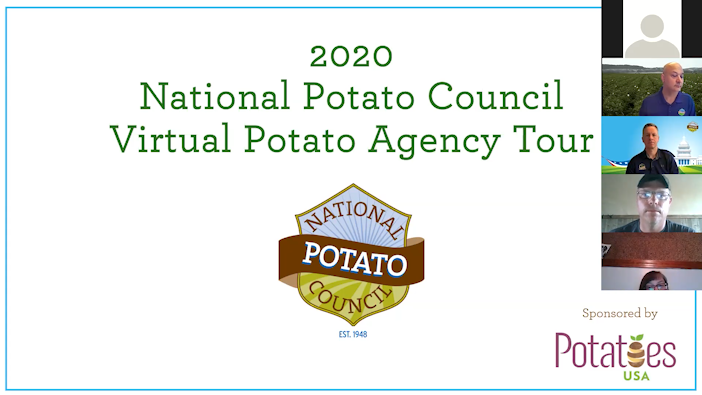 ---
More than 160 participants joined NPC's virtual Agency Tour this week, gaining a better understanding of the pest challenges faced by potato growers across the nation in growing and delivering potatoes to market.
Participants from EPA, USDA, and throughout the potato industry were provided information on pest management related to growing seed and in the pre-plant, planting, in the field, and post-harvest stages. Presenters included growers, extension educators, and researchers from across the country on weeds, bacteria, nematodes, fungi, and insects.
The annual tour was scheduled for the San Luis Valley this year but due to the pandemic became a virtual event. While missing one-on-one interactions, the virtual nature of the event allowed NPC to expand the number of attendees from EPA's Office of Pesticide Programs (OPP) and broaden the offering to include staff from USDA APHIS Plant Protection and Quarantine (PPQ) program.
"We truly appreciate the support of all of those willing to be a part of the program including those who provided presentations on the key pests impacting the industry. Based on the feedback, we're confident attendees walked away with a deeper understanding of the complexities around producing a high-quality, high-cost potato crop for U.S. consumers and consumers around the globe in an environmentally-responsible manner," stated Dominic LaJoie, NPC Vice President of Environmental Affairs.
The annual event is hosted by the National Potato Council and sponsored by Potatoes USA.