Ted Allen to judge "This Spuds for You" cooking competition between teams led by Simon Majumdar, Duff Goldman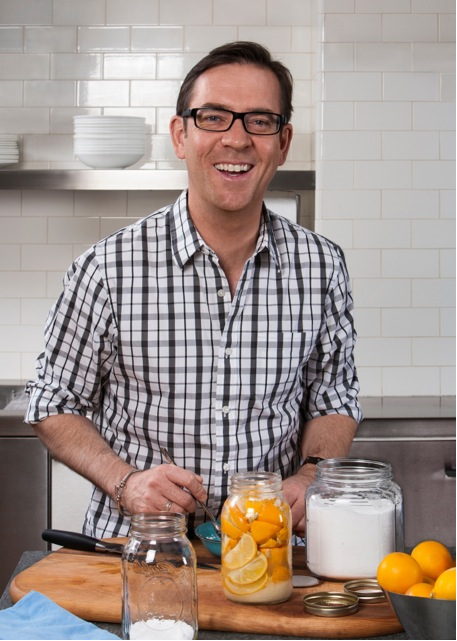 ---
WASHINGTON – When celebrity chef Simon Majumdar tweeted a photo of his Potato Expo 2022 cooking demonstration last January, Duff Goldman bemoaned missing the show. "WHY DIDN'T I KNOW THERE WAS SOMETHING CALLED "THE POTATO EXPO"?!?," the Food Network personality asked in a retweet. Emmy Award-winning host of Chopped and Chopped Junior Ted Allen also jumped in to echo Goldman's regret, posting his reply about his love of America's number one vegetable: "The potato is a miracle product — as much a miracle as are eggs."
After an offline discussion, the food personalities resolved to remedy their previous Potato Expo absences by taking the 2023 event by storm in a chef cookoff of their favorite potato recipes. The cooking competition, entitled, "This Spuds for You – Celebrity Chef Edition," will be hosted by Allen and feature chef teams led by Majumdar and Goldman. The cookoff, along with a separate cooking demonstration by long-time Potato Expo favorite Majumdar, will serve as featured events of the Potato Expo 2023, held at the Gaylord Rockies Resort in Aurora, Colorado, January 4-5, 2023.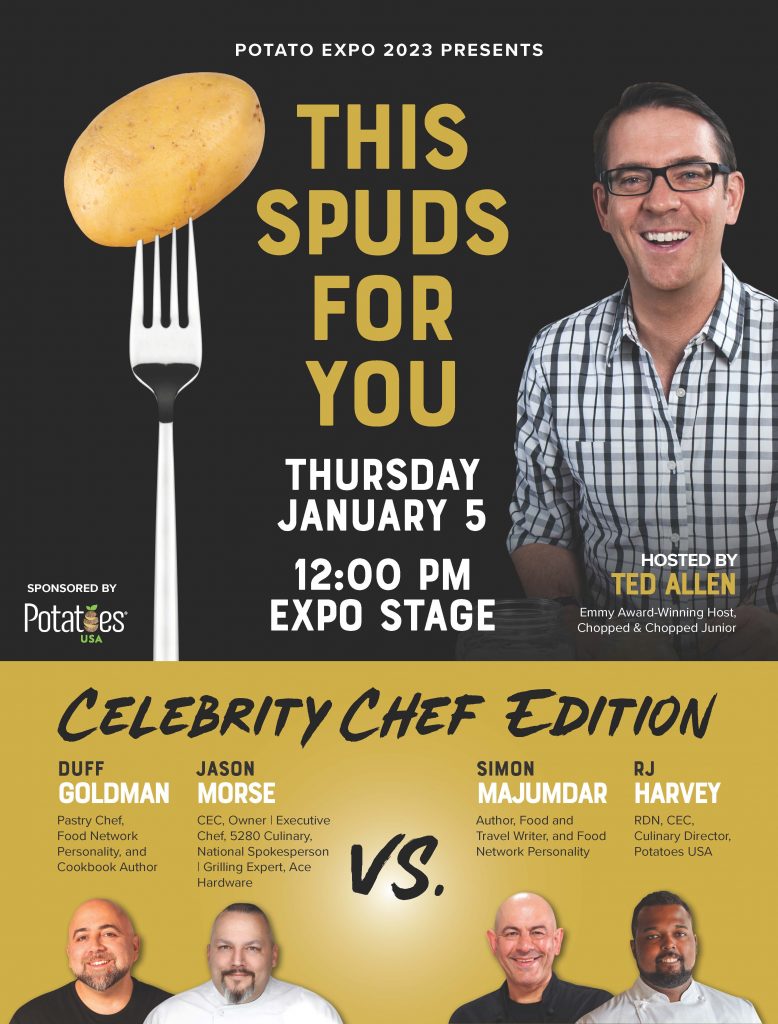 Hosted annually by the National Potato Council, Potato Expo has become the largest conference and trade show for the potato industry held in North America. In January, the event will celebrate its 15th anniversary and once again bring together growers, suppliers, industry experts, and value chain partners from around the world for two days of learning, business development, and networking.
In addition to the 100,000-square foot trade show, the Expo Hall will host a stage for "Potato Talks," a center of activity featuring engaging discussions and entertainment all focused on the latest innovations in potatoes and potato production. As always, the 2023 event include numerous networking opportunities, such as the Kick-Off Reception with a live auction to benefit the Potato Leadership, Education and Advancement Foundation (Potato LEAF), daily Beer Gardens, and an Après ski village-themed closing party. Attendees will also have space to meet and do business in five Meet-Up Lounges and two Coffee Bars, and in the restaurants, sports bar, and meeting spaces located throughout the Gaylord Rockies Resort.
Potato Expo serves as a forum to foster collaboration between national and state potato associations, as well as the rest of the industry. Potatoes USA, United Potato Growers of America, Potato Sustainability Alliance, and others meet each year prior to the kickoff to Potato Expo to organize and plan for the new year. The full schedule can be found at nationalpotatocouncil.org/potato-expo/schedule.
Early-bird registration for attendees and exhibitors is now open. Visit the Expo website at potato-expo.com to register, book lodging at the Gaylord Rockies Resort, and access further important information about the event.
###
Potato Expo is brought to you by the National Potato Council. The National Potato Council represents the interests of U.S. potato growers on federal legislative, regulatory, environmental and trade issues. The value of U.S. potato production is over $4.5 billion annually and supports hundreds of thousands of jobs both directly and indirectly. Learn more at nationalpotatocouncil.org.